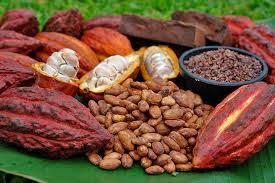 Vision Integrel
Raw Cocoa / Raw Cacao
Beans is the roasted and fully fermented seed of Cacao tree from its land from which cocoa solids and cocoa butter are extracted.
What are the benefits of  our Raw Cocoa / Raw Cacao?
Our Raw Cocoa
beans are organic, high in fibre and are a good source of dietary fat and iron. The Raw Cocoa beans are cleaned in natural water and selected for the finest quality. The production process helps to preserve the nutritional value of the beans without using additives.
Iron
A 15g serving of Iron contributes towards normal cognitive function, to normal formation of red blood cells and haemoglobin, to normal oxygen transport and to the reduction of tiredness and fatigue. Please note that the labelling on this product is provided in English as a minimum. French, and other languages may also be present on a product by product basis.
Freshly Hand-Packed To Order our Raw Cocoa / Raw Cacao?
Each punch bag of Vision Integrel Raw Cocoa Beans is hand-packed, hand-sealed and hand-stamped for maximum freshness in our iconic re-sealable, foil-lined bags.
Where is our  Raw Cocoa / Raw Cacao Sourced From?
Vision Integrel Raw Cocoa/Cacao Beans are obtained directly from its land in Cameroon, renowned for the special aroma of their Cacao Beans.
Support Local Farming Communities
Cacao has been a part of Cameroonian history ever since, serving as a vital source of income for small farmers in the village.  The production of Cacao allows Cameroonian farmers and their communities to better preserve their environment, whilst providing a valuable source of income, improving standards of living.