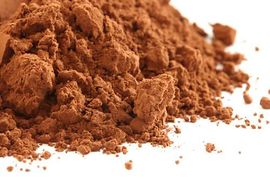 Originated from Cameroun, Vision Integrel  Cacao Powder/ Cocoa Powder is bursting with nutrients making it one of nature's most perfect superfoods.  Our organic Raw Cacao Powder is entirely untreated which means it maintains all its nutrients and full chocolatey flavour.
Playing host to a blend of antioxidants, flavonoids, nutrients and minerals, our Organic Cacao Powder is exceptionally nourishing and provides a healthy alternative to other more processed Cocoa Powders. Vision Integrel Organic Cacao Powder is best mixed into smoothies and warm drinks or made into tasty raw treats.
What are the benefits of Cocoa Powder?
Delicious chocolatey taste
Rich in antioxidants
High in magnesium
High in calcium
Vegan-friendly
Gluten free
How to Enjoy  Organic Cacao Powder or Cocoa Powder?
Make homemade hot chocolate
Bake into muffins, pancakes or sweet bread
Blend into smoothies for an extra nutritional kick
Sprinkle over your morning breakfast.
What's Inside Cocoa Powder or Cacao Powder?
100%  Organic Cacao Powder/Cocoa Powder, with no additional ingredients at all.
Freshly Hand-Packed To Order
Each punch bag of Vision Integrel Cacao Powder is hand-packed, hand-sealed and hand-stamped for maximum freshness in our iconic re-sealable, foil-lined bags.
Where is our Cacao/Cocoa Powder Sourced From?
Vision Integrel Organic Cacao Powder is sourced directly from its land in Cameroon, renowned for the special aroma of their Cacao Beans.
Support Local Farming Communities

Cacao has been a part of Cameroonian history ever since, serving as a vital source of income for small farmers in the village.  The production of Cacao allows Cameroonian farmers and their communities to better preserve their environment, whilst providing a valuable source of income, improving standards of living.